Articles - A Strong Finish For LBC In 2016
Operating Company Total Comprehensive Income at P1.105B,
a 338% increase from 2015
    

2016 was a robust year for the country's leading express delivery and logistics, and money remittance company, LBC, whose focus on maintaining its foothold is supported by customer-forward innovations and vision of improving operations through automation.
On the one hand, net core income from the operating unit, LBC Express, Inc. was at P920.2M, an astounding 217% leap from the previous year, while total comprehensive income was at P1.105B, a 338% rise from previous year. Net income of LBC Express Holdings, Inc., on the other hand, increased by a staggering 120%, reaching P913.9 million by end of the year, due to the rise in air and courier services driven by improved cost of air and sea freight.
What the Numbers Say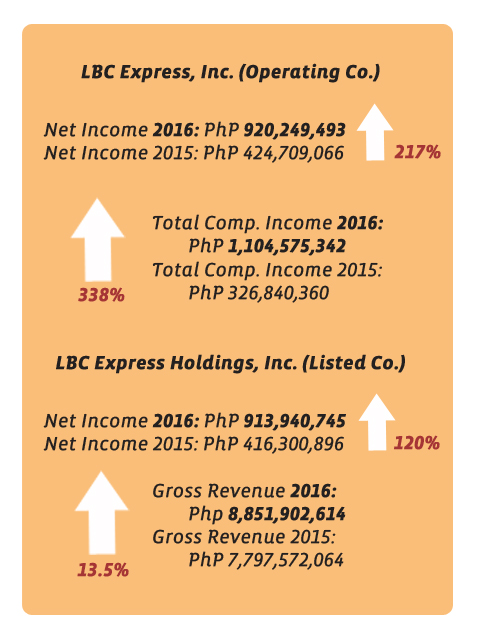 The company reports current assets at 1,327.8 million, a 36% increase from last year's numbers, while total service revenues increased by 13% due to the strength of the logistics segment--- double-digit growth in both retail and corporate sales. Specifically, revenues from the Logistics segment grew by 20%, due in large part to the additional 48 new branches that opened in the Philippines and likewise the incremental increase in the company's volumes from cargo forwarding services during the year.
With a strong focus on efficiency, operating expenses went down by 4%, albeit cost of services increasing by 9% (however, a 2% improvement as percentage to revenue from last year, relative to efficiencies and additional technology). To this end, gross profit increased by 21%, which can be credited to the rise in volumes and rates of both air and courier services.
Given this momentum, the company is taking aggressive steps towards the company's continued growth by focusing on a developing logistics market anchored on tailored services, consistent e-commerce initiatives and the addition of new technologies and systems designed to make freight forwarding more efficient. All this is being accomplished following LBC's pioneering culture of leadership in the industry, where they hope to maintain their position as a primary industry player.
To date, LBC Express serves millions of Filipinos around the globe in over 20 countries, with a network of over 1,200 in addition to 5,300 partner agents. In summation, that creates a 6,500-strong global network that offers the most convenient and reliable options for express delivery.  LBC Express operates three main hubs for sea cargo in key places in the country, specifically in Manila, Clark and Cagayan de Oro, and 78 delivery hubs, with a team of 1,410 delivery associates and over 6,000 employees across the country.
The company's growth is further bolstered by LBC's focus on improving operations and services across the ASEAN regional market, where the increased regional economic activity, which opened access to manpower, raw materials and other key resources, prompted demand for the company's services. Supported by LBC's investment in infrastructure, LBC is poised to meet the influx of demand.
In terms of domestic air freight forwarding, recent industry figures place LBC Express at the lead, trailing after its retail express courier and freight forwarding services, expanding its product mix focusing on services for the corporate market such as sea freight forwarding, cold chain and end-to-end logistics solutions.
LBC also started offering corporate remittance fulfilment services, covering over-the-counter Cash Pick Up for Major Non-Government Organizations like the Philippine Red Cross, ACF International, and OXFAM International; on top of government organizations who have entrusted relief funds, benefits, payroll and insurance benefits on behalf of third parties.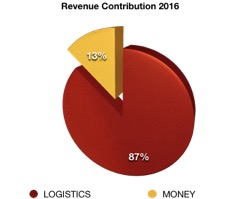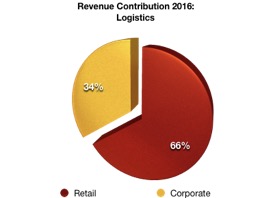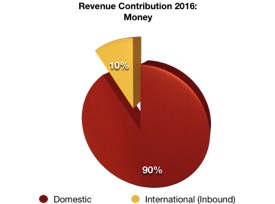 Continued Growth, Non-Stop Improvements
With an eye for growing the company's network, LBC is steadily trying to expand its reach around the world simultaneous with the company's efforts to automate key facets of its service to ensure convenience and growth.
Back-end service and systems innovations focused on customer convenience, such as handheld units utilized by couriers during deliveries, and SMS posting for real-time delivery status updates. For example, with the use of handheld units, SMS alerts are automatically sent to recipients/consignees after packages are scanned and sent out for delivery. This service improvement has already been implemented with all e-commerce consignees in major cities in the Visayas and Mindanao regions. Nationwide roll-out of this innovation is due to be completed by the end of 2017.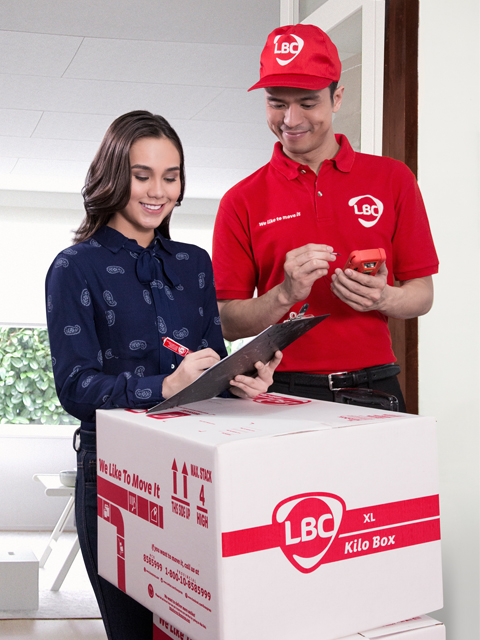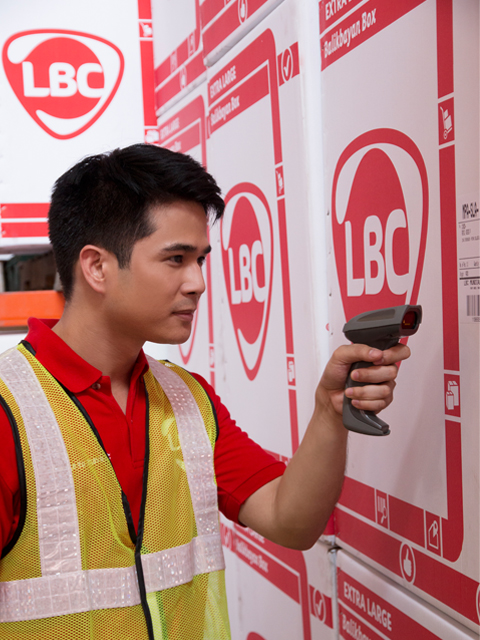 Handheld units also allow for the implementation of SISO (Scan-In & Scan-Out) utilized by the LBC facilities, warehouses, and container freight stations. The proprietary application runs on desktop & handheld scanners, and includes features such as detection of double-tracking, misrouted shipments, short or overlanded shipments, and online generation of manifests—more precise and automated tracking of packages, in short.
In addition, other new system enhancements and automations such as the revamped GPS-enabled fleet, new conveyor systems, allow for increased efficiencies, better service, and improved customer experience.
2016 also saw the introduction of new SKUs (Sales Keeping Units) such as the "Vpouch," "Kilobox Mini," and "Kilobox Slim" as additional receptacle options.
In 2016, LBC Express also signed on with Ramco Systems, an online HR & Payroll solutions provider to streamline the entire life cycle of its approximately 8,000 roster of employees globally, from hire to retire, on a unified solution.
As a part of the agreement, LBC Express will implement Ramco HCM integrated with Global Payroll across its global enterprise covering associates in more than 20 countries. This will include modules for Core HR, Time & Attendance, Leave Management, Employee Self Service, and Recruitment. The move to a unified web-based application will enable LBC Express' HR team to focus on more strategic HR initiatives while aspects related to employee self-service, which were hitherto manual will now be completely automated. Employees on the other hand will be able to get real-time access to data via SMS chat, Mail transactions, CHATBOT among others. This is expected to reduce employee support cost, time and effort, substantially.
Commenting on the association, Jhayner V. Bhufi, Chief People Officer of LBC Express Inc., said, "In a service-centric atmosphere, our associates (employees) play a pivotal role in ensuring we deliver on our commitment to customers. We wanted a simplified but operationally rich HR software that can address our complete HR needs. Ramco HCM with its innovative features fit the bill with its Innovative offerings around HUB, Mail it, Chatbots and Mobility. We look forward to leveraging the application in creating a highly engaged and empowered workforce."
Other internal operational improvements such as POS and an automated financial reporting system that allows for consolidated reporting for increased efficiency were also added.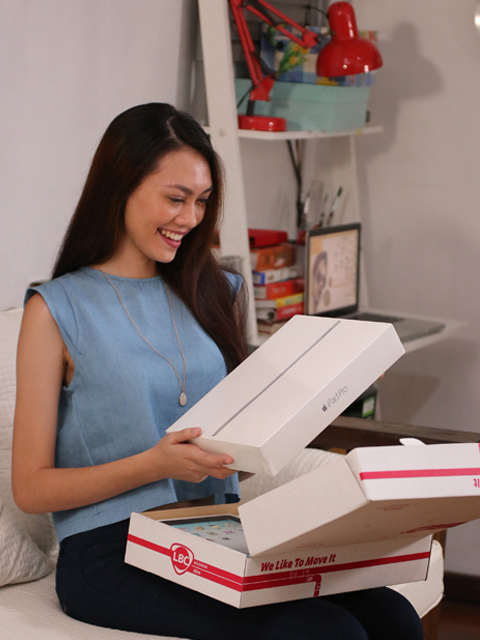 In the realm of improved Customer Service and Relationship management, a higher focus on customer relationships resulted in a deeper understanding of customer behaviors and needs, enabling LBC to act on these needs and provide additional value to its current service offerings, which stems from a more robust customer intelligence program. Incremental revenues are derived from addressing the customer journey with targeted interventions such as "Win-back"campaigns to re-activate lost customers, "Anti-churn" programs and Cross-sell and Upsell offers for new and existing customers. Customers' concerns are also proactively addressed via our Customer Care Unit to ensure high customer satisfaction levels.
"Aming Ligaya," LBC's campaign in 2016 also yielded positive results both with its external and internal stakeholders. The campaign introduced a service anthem, with inspiring music and lyrics --- "Aming Ligaya ang maghatid ng inyong saya, lagyan ng kulay ang buhay at pag-ibig ang padala" – connecting both customers and employees with the common theme of "The Joy of Moving." What started as a sales & marketing campaign transformed, naturally, into a battle cry for each of the 8,000 LBC associates, highlighting each contribution and relevance to overall customer satisfaction.
In the Philippines, LBC Express opened 48 new branches across the country bringing the total number of branches to 1,245 in 2016, contributing to the company's overall performance and bottom-line while extending the brand's presence and reach, where no other brands are present. LBC has gone deeper into third-class municipalities, while also expanding its network in key cities.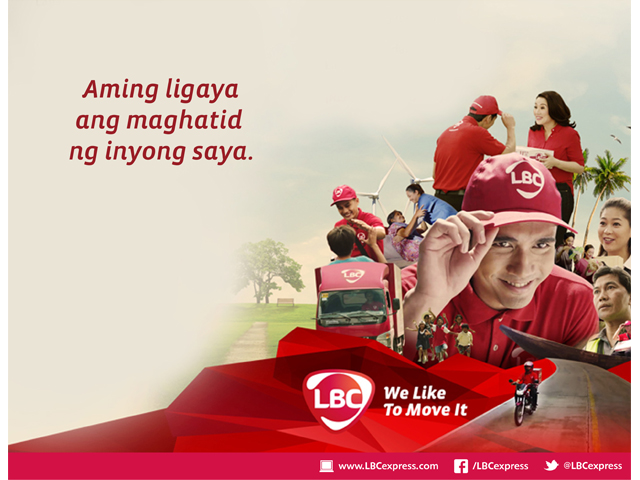 "Our branch expansion is driven by our customer's expectations for convenience and ease. We continue to push for growth so that we can meet the needs of our customers who demand only the best when it comes to their padala," says Oliver L. Valentin, Senior Vice-President for Operations of LBC Express, Inc.
In addition to the 48 branches that have already opened in 2016, LBC, in 2017, is also planning to open in untapped areas where the convenience of a reliable express delivery service is critical. Additional branches for busy urban areas will also enable LBC to create a seamless branch experience where customer service is at the forefront.
To that end, LBC Express intends to continue learning about the communities that they service to further enhance and customize their branch experience.
"We've been making efforts to consistently expand reach in the region and bring our services to communities that need it the most. And with each new store that LBC Express opens, the company brings with it its long standing legacy of reliability and trust," adds Valentin.
Overseas, recent expansions in the Middle East saw the opening of a bigger and better warehouse that will see improved operations in the UAE, in addition to services like deferred payments among partners to add convenience. The recent relocation of the LBC UAE head office and call center to Al Quoz offers a more central location offers better customer service. In addition, document processing for Qatar-based customers offers additional efficiency for government certificate processing while abroad, and Pick-Up on Demand service as well as new rewards program, LBC Plus can now be added to the brand's roster of services.
Smart Shelters were also added to the UAE's line up of services for kababayans in the Middle East, where LBC saw the opening of an innovative curbside retail concept for efficient parcel sending to 236 destinations around the world.
Locally, LBC has sought to establish strategic partnerships that will drive nationwide growth and credibility. As proof of LBC's continued thrust for innovation, the company, under its business solutions arm, is supporting the prestigious Asia CEO award, the largest business awards events in the country, recognized to be one of the prestigious recognitions in the region. The division, which is designed to go beyond on-time pick-up and delivery taps into LBC's portfolio of services to create customized solutions packages to address unique client needs and help businesses grow.

A recent partnership between SG HOLDINGS Global PTE. LTD, and its local subsidiary, SAGAWA EXPRESS PHILIPPINES INC. was also finalized, which will allow the development of a central office that supports the accelerated growth of large-scale investment projects, ultimately lending itself to economic contributions.
More recent initiatives include hosting one of the most prestigious gatherings of industry players, the Asia Logistics Summit, where key players were given a platform to share their expertise in the field and gain insight from each other's experiences.
Focus on Social Responsibility
LBC Foundation, the company's philanthropic arm, focused their efforts on sports, youth and community development, education, environment and disaster relief.
The annual, and recently concluded, Ronda Pilipinas---a nationwide cycling race recognized as the country's biggest cycling competition highlights shared values of sportsmanship and perseverance.
Anchored on LBC's vision to become a catalyst for nation-building, the company sought to establish partnerships with key government and non-government organizations, while leveraging on their core capabilities as a business. LBC's goal is to spur positive change in the lives of Filipinos---an objective that is feasible primarily because of the company's inherent values and network.  
What's to Come
Anchored on LBC being a household name built upon its reputation of being a standard bearer and market leader in express delivery, it is the company's goal to continue bringing joy to LBC customers and maintain leadership in the category.
LBC ends 2016 on a high note--bolstered by confidence that they will continue to meet the demands of an evolving market and continue to deliver great service to millions of customers around the globe.
"Our continued expansion lends itself to building trust and ensuring convenience, for both our loyal customers and our ever-growing team. It's part of a long-standing commitment to provide the kind of service that our kababayans deserve. And we will go on to find new ways to innovate our products offerings to ensure that our services truly deliver value and answer their needs," explains LBC Express Holdings, Inc. Chairman of the Board, President & Chief Executive Officer Mike A. Camahort.