Articles - PHILIPPINE FREIGHT FORWARDING MARKET EXPECTED TO GROW TO USD41.3B BY 2020
PHILIPPINE FREIGHT FORWARDING MARKET EXPECTED TO GROW TO USD41.3B BY 2020
MANILA, PHILIPPINES: In a recent report entitled "Philippines Logistics Market Outlook to 2020 – Driven by Customized Logistics, E-commerce Activities and Changes in Freight Forwarding," analysts from global information provider Ken Research estimated that the country's freight forwarding market will grow at a Compounded Annual Growth Rate (CAGR) of 6.8% from 2016 to 2020, thus reaching total revenues of US$41.3 billion by the end of the period.
Freight forwarding is broadly defined as all intermediate links that a package goes through before it reaches a recipient. In the Philippines, the major items carried by freight forwarders include construction materials, vessels, agricultural produce, machinery, electronic products, pharmaceuticals and many others. As of last count, the overall size of the market was valued at approximately US$20.2 billion, growing at a 5-year CAGR of 4.7%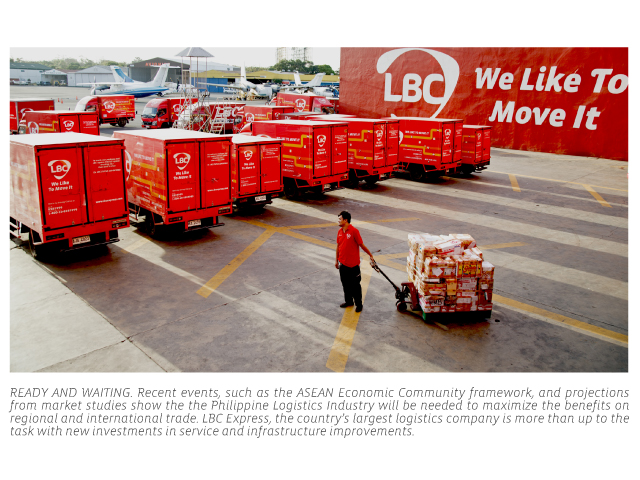 LBC Express, identified in the report as one of the key companies driving the industry's growth, agreed with the analytical basis and overall conclusions of the paper. "In the past five years, infrastructure development – including national roads, airports, and information technology systems – has allowed us to increase the capabilities and slowly maximize the potential of Philippine freight forwarding," explained LBC President Miguel A. Camahort. "There are also favorable macroeconomic factors to consider, such as the rise in disposable income which resulted in higher trade volumes," he added.
Among Southeast Asian economies, many analysts believe that the Philippines will continue to be among the region's leaders, with the World Bank forecasting its Gross Domestic Product (GDP) to grow more than 6% until 2018.
In a related story, the recent formalization of the ASEAN Economic Community (AEC), an integrated economic region that aims to ease trade, access, and movement of resources, goods, and manpower through ASEAN member nations was seen by experts to increase the demands for business logistics within the region.
Camahort believes that the Philippine logistics industry, particularly LBC, is ready to meet the demands to be brought about by the AEC integration. He highlighted LBC's Business Solutions which include Logistics and Specialized Logistics; Cold Chain solutions for those who need to transport goods and cargo at controlled temperatures; Corporate Remittance, and other money movement solutions; Warehousing and Inventory Management; Non-Vessel Operating Common Carrier (NVOCC) for those who need to move a full or less than a container shipment to gateway points, and many other customizable and scalable services to suit the needs of a growing business.
"The logistics and freight forwarding industry involves nearly every aspect of the entire economy, so their movement is almost identical," Camahort pointed out. "All signs point upward for the Philippines, so our company has ensured that we are well-poised for this growth. We have made significant investments to strengthen our infrastructure, manpower, and technology base, in order to anticipate the increased demands of Filipinos across the world," he concluded.
10 June 2016